Wolcen: Lords of Mayhem is making strides to a beta version. In the latest update 0.4, the alpha version now has online connectivity, laying yet another huge brick to it's foundation to build upon. While this doesn't seem like a big deal, having online connectivity is one of the big steps a game will make before other features are added. Now you might ask, does this mean I can play multiplayer now with other Alpha players? Unfortunately, not yet. The base functionality is there to prepare for multiplayer, and also help the developers get real-time feedback from users on their experience and stability of the game. But no doubt, the time to multiplayer gameplay just got a lot sooner with this.
Another big step came in the new and redesigned Skill Tree system for characters. Up until now, a placeholder version stood to allow basic skill customization. Now, the developers have unveiled their vision for how Skill Trees will really work in the game. While not 100%, like the addition of online connectivity, it's there to get things started and will be built and improved upon soon.
Here's the official breakdown via the Wolcen Steam page

"Hi everyone !
Update 0.4.0 has been deployed on the experimental branch !
You can access the experimental branch by right clicking on Wolcen in your library, navigate to the "Betas" tab and select "experimental" from the combo box.
WARNING: Because of deep changes brought to the save files and the game in general, 0.4.0 wipes your saves. We apologize for the inconvenience.
With this update, we are introducing the "online mode". In this mode, your save data (character, chest, house…) will be stored on our servers. You can still play in offline mode (with everything stored on your harddrive and no internet connection required) by clicking the "switch to offline" button on the main menu.
Multiplayer co-op is not available yet but online mode is a first step in its direction.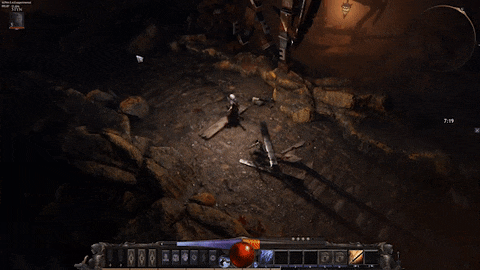 With online mode and 0.4.0, we are also introducing the daily dungeon: a daily randomly generated dungeon shared by every players. The daily dungeon is bigger than the random dungeon you are used to and should offer more challenge with more elite enemies and a boss at the end you have to kill to finish the dungeon. Furthermore, the daily dungeon is timed and offer you a way to compete with your friend for who finishes the dungeon the fastest.
You can access the daily dungeon by talking to Don John in Amarth. You will also find the leaderboard next to him.
The daily dungeon is only accessible in online mode.
With 0.4.0 also comes the new active skill tree which offers you customization options for each and every skills like more range, more damages, cost reduction…
However, the skill tree we are releasing on the experimental branch isn't complete. Some skill had to be removed and some skill trees don't have all their variant up to level 25. But we still wanted to get it out with experimental to give you a preview of those features and get your first impressions. More skills and variants will come with 0.4.0 stable release.
Finally, with this update comes a lot of bug fixes, optimization, balancing… and a lot more ! We will publish the complete patch note in a few days once we are satisfied with 0.4.0 stability and release it on stable branch.
Thank you for your continuous support ! We hope you'll enjoy this patch !
WARNING: The GI option (SVOGI) is temporarily disabled during the experimental release due to technical issues."
As anxious as I am for the developers to hurry up with more features, and move to a release date, I really hope that they will continue to work at the right pace that ensures the newest features and updates are rock solid quality. There's really no need to rush, yet. As long as Wolcen:LoM releases in 2017, I think most Kickstarter supporters like myself will be happy to wait for the polished game.
For more Wolcen:LoM and other ARPG/RPG news, gameplay, and geek fun, be sure to check out my YouTube channel and keep your eyes on my social networks Twitter and Facebook!